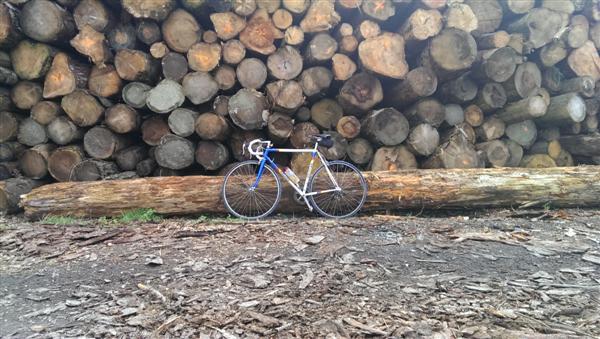 Headed out over the Campsies for my September Metric Century ride.
Stopped off at Wheelcraft to see if they had a pair of rear dropout adjusters (If you need to ask you what they are you don't need them, if truth be told, don't even know if I really needed them, but they gave me a destination and route for this months 100k cycle). Was very pleased my hunch to pay Big Al a visit had payed off, nice pair of Campy ones at a bargain price. Ended up staying for longer than planned, drank coffee, had a blether, made more coffee, had a blether with more folk including Andy whom I know from GRCM. Can cyclists blether and drink coffee!
After that over the Crow Rd through Fintry and onto Lake of Mentieth, the only lake in Scotland. Came across the impressive pile of logs in the photo whilst off piste somewhere between Aberfoyle and Glasgow.